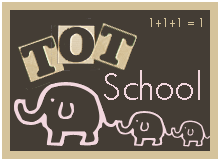 ~Corinne is 26.5 months~
I loved hearing Corinne's excited little voice squeak "PUMPTINS!" every day as she saw our books, crafts and activities. She had fun participating in our Sink or Float investigation, painting pumpkins, and making pumpkin chocolate chip cookies
with her brothers
. Here's a peek at what she did this week for her "school" time.
Deep and Wide (her favorite Bible song)
Learning about Big and Small
Comparing Pumpkins
Since we had a both a big pumpkin and some small pumpkins on hand (and because many of our pumpkin books seemed to be about either a very large or a very small pumpkin), I thought this would be a good week to focus on size comparison. She got to explore our big pumpkin before we we opened it for our
Pumpkin Investigation
, and a small pumpkin she painted that morning for craft time. She had a ball playing with the big pumpkin, sitting on it, and trying to lift it. These pictures crack me up!
Pumpkin size cards
In another attempt at teaching size comparison, I gave her two pumpkin pictures (one large, one small) from a set of
size sequencing cards
. I asked her to show me the "big pumpkin" or the "little pumpkin." She wanted to use the play-doh we had just been playing with to show me her choice. She's still working on understanding sizes, but getting there. :)
Stacking Bowls
I also put some
stacking bowls
on her trays this week to open up another opportunity to talk about size.
Play-doh Mat
Like her brother, she made a
P
ink
P
lay-doh
"P"
and made the /p/ sound.
Pumpkin Coloring Page
All three kids colored this page from
Confessions of a Homeschooler
. Corinne looked at the letter P and colored her pumpkin orange. We talked about the color orange while she did this, but as I look at the picture now, I see that one pumpkin is clearly bigger than the other. With all of our "Big and Small" learning going on this week, I should have pointed that out too. :)
Craft Time
Painting Pumpkins
Pumpkin Coloring Book
This cute little coloring book came from
Two Teaching Mommies
. Corinne really liked coloring the pumpkins, I think I might have to take this book out every now and then for her to look at.

Paper Plate Pumpkin
We started by ripping orange construction paper into pieces. She needed a little help getting the rip started, but was happy to finish the job herself. :) Then she glued her pieces to the plate and added a stem. I added a pipe cleaner "vine," and her masterpiece was complete!