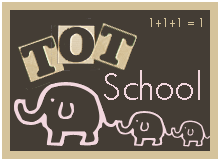 ~Corinne is 27 months~
Here's a look at what was on her trays this week.
She was all about sweeping up the silk leaves and dumping them out. :)
I used the leaves from a
patterning printable
for Corinne to sort. She needed a little help, but did pretty good. Not her favorite. She liked it fine while we were doing it, but once was enough on this one.
I set out the bucket of leaves from our nature walk on her shelves. I thought it would be fun for her to explore the colors and textures. Her first instinct was to fill a bowl with leaves, so I gave her a stick (also collected on our walk) so she could stir it up and make "soup." She liked to try stabbing the leaves from the bucket and transfer them to the bowl. It turned out to be good fine motor practice.
I helped her write a couple letter "L's" on the chalkboard, then asked her to draw me some lines. The chalkboard never gets old, she was more than happy to draw lines, "O's" and other "letters." She wants so much to be able to write and learn her letter sounds. She loves to write scribbles and pretend she's making letters. She often says random letters sounds while she scribbles or tell me which letter she "drew"-- "Mommy, I draw a T!!" It's so cute how proud she is of herself!
She does really well matching her color cards. I lay out one of each color and then hand her the rest, one at a time, so she could find the match. She also likes to match the whole deck on her own sometimes.
This wasn't really a planned thing, just something she picked out to do during our time together. She liked to spin and slide the beads and name the colors. I tried counting them with her, but she wasn't into it much. I think this was the first time she played with our
abacus
. I'm sure it will come out again soon.
I thought since she's been so interested in letters lately that she would enjoy playing with these blocks this week. She built in knocked over towers over and over, but didn't care much about the letters on them. She did have fun with them though!
Over the summer I put a flower in the pocket of her tee shirt and she's been a big fan of pockets ever since. She was thrilled to be wearing jeans with pockets on this particular day. She pointed them out to me again and again. This wasn't a planned activity, but I just thought it was really stinkin' cute. I love how she wanted a leaf in her pocket. :)
Gluing roots on a tree
For our
Leaf Unit
, we reviewed all the things we learned about leaves and trees on this poster. I let the kids dip yarn in glue to make the "roots" of the tree. Corinne definitely had the most fun with this. The boys surprised me with their lack of interest in it, and Corinne continues to surprise me with her enthusiasm for messy activities. It's a big change from last year. :)
Fall Tree Snack