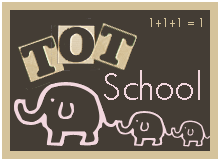 Last week I posted curriculum choices and plans for my boys. Here's what I have planned for Tot School this year....

Corinne

(2yrs old):
Table/Paper activities- Her own "schoolwork" to do with her brothers during their school time. I want to provide her with things like stickers on paper, do-a-dot letter page, a number poster to color, etc. She will have free reign over what she does and for how long-- I just want to be sure to include her at the table during school time if she shows an interest.
Songs/Rhymes-

Every week we'll have a Bible song and a song (or rhyme) relating to our theme. I thought sitting on the blanket (reserved especially for Tot School time) and singing our songs would be a good way to start our time together.
Flannel Board- I've tried to include some flannel board fun for her. The flannel board is tons of fun for all three of my kiddos. I tried to find a flannel board activity related to our theme of the week. I found tons of ideas from Flannel Friday on Pinterest.
Tot Trays- She will have four trays to choose from during her one on one time. Each one will have one toy or activity (play doh and cookie cutter, pitcher and bowl for pouring practice, magnets and paperclips, puzzle, lacing card and string, etc). For more info and ideas, check out Carisa's post on Tot Trays.
Sensory Bin- I have found sensory bins to be a fantastic hands on tool to help my boys learn various science concepts, so I will try to create one for each unit. During Tot School time, it will be Corinne's turn to play in the sensory bin by herself. Instead of science, she will learn about color, texture, counting, scooping and dumping, etc.
I know it might seem like a lot. But bear in mind that we will only do what she wants to do and only until she decides it's time to move on to the next thing. No pressure, no forced activities. Just fun learning and bonding time.
If tot school is new to you, check out the Tot School website (click on the icon at the top of this post).
I absolutely adore everything about the concept of Tot School. It seems that every day seems to fly by and I find myself feeling guilty for not making more time for my kids.
I really want to be intentional about setting aside regular one on one time with my sweet little girl. I don't want to look back on this time and wish I would have spent more time enjoying her.
Two is my absolute favorite age and I can't wait to hang with her this year. :)