~Corinne is 21 months old~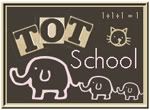 My first Tot School post! This week was all about birds here at our house. Corinne did some activities with her brother for
preschool
, but we did lots of stuff just for her too. :)
Played with our duck toy and quacked:
Opened and closed plastic eggs and put pom poms inside:
I showed her to match the pom poms to the egg by color. I don't think she can do this on her own yet, but she's learning!
I made her a "felt board," (i.e. I threw 2 yards of fleece over our easel). I found the
"This Little Chick"
nursery rhyme printable with corresponding color chicks at DLTK. There is a little rhyme for each color, such as, "This little chick is Green. She's the prettiest little chick I've ever seen!" As I read the rhyme, I handed her the colored chick to but on the board.
She LOVED it. We played with these little chicks (and learned about colors) for a long time. Sometimes with the rhyme, sometimes without.
**(FYI-- To get the chicks to stick to the board I glued pellon (interfacing) to the back of them.)
What Else?
* We sang
Six Little Ducks
. Making my hand "quack, quack, quack" in her face got lots of smiles!
* Colored a
bird coloring page
* I "flew" her around the house while we tweeted about. "Tweet, tweet... tweet, tweet."
* Played Duck, Duck, Goose with her brothers (with help).
* Looked at her Easter book,
Where are Baby's Easter Eggs?
and talked about how the eggs are in the shape of an oval. I wanted to do more this week to learn about ovals, like make an oval shaped bird craft and glue scraps of paper to a big paper oval, but just didn't get to it.
That about covers our bird week. For more bird ideas, check out what we did for
preschool
. :)
Linking up to: